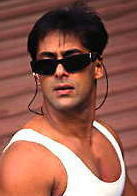 What do you dislike most about your appearance?
Nothing, yaar. God has been kind to me.


Which living person do you most despise?
I don't despise anyone - if I don't like them, they don't matter.


What is your greatest regret?
Thankfully for myself, I have no regrets whatsoever. And what'S more, I'm proud of that.


If you could change one thing about yourself, what would it be?
Nothing at all. It's a package deal - take it or leave it.


What do you consider your greatest achievement?
To have got the kind of family I do.