'I've never beaten Ash' says Salman
By: S Ramachandran
Mid Day Sep 18 2002
Salman Khan walks into the sets of Tere Naam. He is a bit angry. He has just heard about an article about him beating up Aishwarya Rai and abusing Aziz Mirza and Shah Rukh Khan in Mid Day.
After sitting next to director Satish Kaushik, he asks for a copy, goes through it again and again reading it aloud. Then he takes off his shirt and walks around with bodyguard in tow. The producer Sunil Manchanda then talks to him and brings him for an interview.
Salman puts his shirt on and fields questions. His answers are laced with sarcasm as he also enjoys a bit of his wit as he answers questions about his work and personal life. Excerpts from an interview.
Why did you sign Tere Naam?
Because I had no work. (laughs). I liked the script. It is a very good film.

Tell us about working with director Satish Kaushik?
Pappu Pager? (Kaushikfs name in a few films). He is a very sweet guy. This is my first and last film with him (laughs).

We believe that the music by Himesh Reshammiya is very good.
Indeed. The music will kick ass. It is very melodious and has a lot of lyrical value.

What is your role in Tere Naam?
There is a boy who falls in love with a simple girl and goes out of his way for her. He loses everything in life including his friends. But he gets the girl in the end. He has been regarded like a total untouchable. But suddenly his worth is known when he goes ahead and gives his life for the girl. She thinks he is wrong, but she realises everything about him in the last 15 minutes.

Is it same in your personal life? Do you feel that you have been misinterpreted too?
Not at all. People understand me very well, especially the press. (laughs)
Donft you feel the need to clarify?
I donft need to go and explain anything to anyone. My family and people who know me know the truth. I donft need to tell anyone what has been happening. But all these things said and written about me add up. I let it go as a part of life.
What would you compare Tere Naam to?
It is a film in the genre of Ek Duuje Ke Liye or even Hum Dil De Chuke Sanam. But I did not agree with the ending in Hum Dil De Chuke Sanam. Sanjay Bhansali told me that he wanted a depressive high. But frankly, I feel that love is above all traditions. But if you are making a traditional film, then f*** love.

Nandini (Aishwarya) should have left her husband and gone with the guy she loved (Salman). Her husband (Ajay Devgan) was like god to her for what he did. If I had made Hum Dil De Chuke Sanam, I would have let her go with the guy she loved.
What is your take on love?
I donft think that there is a word called love. There is a word called eneedf. A girl will not reciprocate the love, till she feels the need for the guy. Even if he says that he wants to jump off the cliff, she will ask him to go ahead and do it.
What about the love in Devdas?
That is not love. It is a film about a loser. The writer of the book himself realised that he had destroyed an entire generation.

Why didnft you do Devdas?
I was the last person to know that I am not doing Devdas. I did two films with Sanjay Leela Bhansali. By the end of that, he had outgrown me. He needed a much better actor to play the role.
What about Aishwarya? Did she fit the role?
I have not seen Devdas. But Sanjay felt that she was going through a lot of trouble and was suited for her character. Ditto with Shah Rukh and Madhuri. I am the only one who does not have any problems. So I did not get that role.

But you do get emotionalc
Emotional problems donft have any logic. If someone is emotional, he is. The person next to him is helping control his anger.
You have not been able to control your anger.
I do get emotional. But then I hurt myself. I have banged my head against the wall, I have hurt myself all over. I cannot hurt anyone else. I have only hit Subhash Ghai. Yet, I apologised to him the next day.
There are times when you do get out of control. That person hit me with a spoon, almost broke a plate on my face, pissed on my shoes and grabbed me by the neck. I could not control myself. And see what happened. Next day, I had to go and apologise.
I have not beaten up anyone else.

What about the story in Mid Day? Is it true?
Every word of it is true. I donft want to clarify anything.
Have you beaten up Aishwarya?
No. I have never beaten her. Anyone can beat me up. Any fighter here on the sets can thrash me. That is why people are not scared of me.

Donft you think your anger can ruin her career?
Nothing has happened to my career. Her career will also be fine.

What about the heroine of this film Bhoomika? Is she scared of you?
After she reads what has been written about me in Mid Day today, she must be very scared of me.

You mean to say that you are being victimised by the media.
Indeed. I donft suck up to journalists, I donft throw parties and entertain people.

You have also been accused of stripping in public?
What is stripping? Even now, I have been walking without my shirt on. I donft have my shirt on in some films. I cycle without my shirt on.
What went wrong with your last film Tumko Na Bhool Payenge?
I liked Tumko Na Bhool Payenge a lot. I really donft know what was the problem.
There was the aspect of the Muslim guy being a Hindu in the film. You can either be a Muslim or a Hindu. I realised that you cannot mix up the religions.

You seem to have a strong viewpoint on religion.
I donft see any problems between Hindus and Muslims. The reason for the differences is greed. There are some greedy politicians who want to get the Hindus and Muslims fighting against each other.
My father is a Muslim. My mother (Salma) was a Hindu ? a half-Maratha and half-Rajput Dogra. They have been living together for so many years. My other mother (Helen) is Catholicc

Tell us about your brother Sohail Khanc
He is very good. He has been accepted as an actor. He has passed that test. He has been handling four departments. The film has done well.
You were to do the role that he did.
We wanted him to do that role. The role fitted him well. I was like five years too ahead to do that role.
Tell us about Marigold...
I have been offered other roles in Hollywood before. But the roles are such that you are made to look like an idiot. Indians are never offered proper roles. But the one in Marigold was quite good.
The director, Willard, loves India a lot and has been here before. That is what made me accept the film. He was keen to make a musical.
I did offer inputs as I have been in the industry for around 15 years now and know quite a bit about it.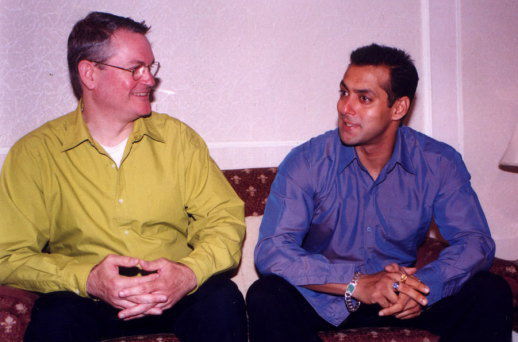 20020919