"Is Salman Khan The Son Of A Muslim Father or A Hindu Mother?"
Salim Khan Thunders

Big Thanks to Ms.Mayuko for this article!!
Moviemag International March 2001
| | |
| --- | --- |
| Understandably, the same sort of reaction came from Salman at beginning. But Salman never resented me. It's all conjecture. People assume baab bete ki banti nahin. He doesn't smoke in front of me out of love and respect, not fear. He meets me before he leaves for shooting, comes over in the evenings. I never go to his place. I've given him that much freedom. I don't sit there advising hero." | |
| | |
| --- | --- |
| | "I firmly believe that if you want to learn to swim you must go into the water, you can't learn it in your drawing room. For instance, when this Subhash Ghai thing happened (a drunken fracas between Ghai and Salman), I only asked my son, are you happy miserable about it. I asked him, secondly, do you think you could've handled it better? He said, "Yes, daddy, I could have. It wasn't my house where the party was happening. I shouldn't have asked him to get out, I could've withdrawn, I didn't." Lastly, I asked him, do you want the press to go on a picnic with this? He said, that's the last thing I want. So I picked up the phone and told Subhash Ghai, I can't say who was in the wrong, I wasn't there. But I'm sure you'd both like to forget it. I said, bachcha hai, galti ho gayi. He was very gracious and he said, I'm also feeling very bad about it, woh mera bhi bachcha hai. I called him over for dinner and said, let's wash it all away with whisky. We sat togethertil 5 in the morning, dringing and talking. Within 12 hours we'd solved the problem!" |
The peaceful coexistence of two wives in his life (separate homes thhough) and Salman's complete, public acceptance of a second mother in the family may make debatable conversation. But undeniably, there's envy too. Salim has been very lucky to have pulled off such a compatible scene.
"God has been very kind to me," he agrees."From time immemorial, man has always wanted to amass or conquer land, jewellery, wealth. According to me, the most interesting being, more than land or any wealth, is a woman. But the problem with women is that if you hold onto one, the other leaves you. In my case, I have been fortunate enough to hold onto both women. Wherever I go, I'm asked, what is your recipe for this good fortune? I say, nothing but sincerity. A writer who wrote a whole book on how to win people and influence them, wrote pages and pages on do this , do what. It's a bible on human relationships. But at the end of it all he said, none of this will work if you don't have sincerity. That is the key word."
It's not just the way the two women have got together. The complete acceptance by Salman and the other kids (of Helen) never fails to amaze.
"As kids they had their hostility, "Salim comfesses,"But they reacted the way their mother did. As I told you very honestly, it wasn't as if Salma accepted the relationship happily straightaway and thanked me for it or said, you deserve an Oscar for it. So at that time there was hostility from the children. But they've all realised that Helen is a wonderful person, the children have realised that she's as good as their mother, They feel, daddy likes her, our mother likes her, we also like her, she's family. Now Salman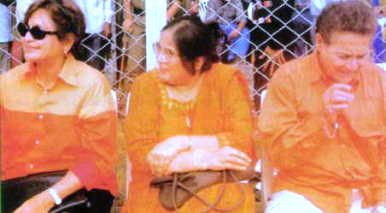 will give his life for Helen.
On Mother's Day, or any time he buys anything for Salma, Salman will always buy two of the same thing, always one for Helen too. It's not just Salman. But then Salman is a star, he can afford to buy such presents. Sohail has just started working, Arbaaz is still struggling to make it. But it's the gesture that's most important and in thier own way, all of them show the same affection for Helen. Daughters are so possessive of their fathers. But both my doughters love Helen as much as they love Salma."
| | |
| --- | --- |
| | "On my part, I altermate betweeen Helen and Salma. It was that way when we started our relationship too. It was on the quiet earlier but out in the open since 1976. Last night I was home with Salma. Today, immediately after this interview, I'll be going straight to Helen, having dinner with her and staying over with her until tomorrow morning. We follow this pattern except on the odd day when the children have called somebody over. But then they call Helen too and there's no problem." |
It's not a judgemental right or wrong about this situation that's importaant. It's the fascination of how he's done it that surfaces. And it is a recorded truth that the Salim Khan family is thick as thieves. So thick that even Salman's changing scenario of women is always supported by his forks. From Sangeeta and Somy Ali to Aishwarya Rai, how come the girls feel so welcome?
"That's a good question," he answeeres,"I learnt that from Mr.Rajendra kumar. When his son, Bunty fell in love with his first girlfriend (we'll leave her unnamed since all of them have happily settled down in thier lives), Rajendra Kumar had objected and said, she should never step into our compound. So what happened? He lost his son because Bunty moved out and went to stay with his girl!.
Similarly, if I object to any girlfriend of his, Salman will simply leave and go to her house. What do I achieve in the bargain? He's not going to leave the girl. So the sensible approach is to just let him be and let him realise whether a relationship is growing apart or they're growing together. You must have realised that everytime there was a breakup, the girl would go out and talk about it. But have you ever herad Slaman talking against or talking about any of his girlfriends?"
But he doesn't to the press talk anyway!
"Even if he did, he would never utter a word about any of his girls. That's his training, his culture, to keep the sanctity of a relationship."
Yes, all of you were at Sangeeta's wedding to Azhar.
"We have nothing against Sangeeta,"Salim asserts."She did the right thing. If she and Salman had got married, they'd have been unhappy because they were growing apart. They didn't have major differences but Salman and she could never take that crucial step towards a commitment, they always stopped short of making a commitment to each other. She was right in marrying someone who could give her security, make a commitment to her, marry her at such a wonderfully attended function."
"You can't force a commitment", he remarks.
Salim's theories on love have a screenplay of their own.
"Who am I to dictate who my sons should fall in love with?"He answers,"Is there any bio-data that should he scrutinised before you fall in love? You hear a voice within you and you heed that. I too have been attracted to hundreds of women, I married two of them. Because I felt they were commitments I could fulfil for the rest of my life.
If all his sons have settled for marital bliss but the eldest, Salman hasn't, is there a reason for his restlessness?His dad's not perturbed as he ovserves,
"You have to be very sure before you get into a permanent relationship. If you're not sure you have no right ot enter into commitment hesitatingly. I met Salma in 1958 but I married her in 1964. WHen I met her father, a renowned doctor, he said, 'We have no objections, you're fine boy, you give us all the respect and God willing, one day you will make it in life.' But Salma was a Maharashtrian, a Hindu. There was the question of religious differences. I told him, 'Doctorsaab, I'll have 17, 042 defferences with her but there will never be fight over religion.' I was wrong. I had 18, 740 differences with Salma but still religion was never one of them!
The absence of communal feelings is not just for public exhibition, it genuinely exists in our house, "he underlines,"Everybody has been welcomed. Arbaaz married Malaika, a Catholic. Helen is a practising Catholic, Salma, from a conservative Hindu family. Sohail's wife Seema, a Hindu. Can you get a better example of nathional integration than this, can you find so many cultures under one roof? I'm not showing off, it really has happened in our family."
But Salma converted herself! She had to change from Sushila to Salma!
There's a lot of revelation from Salim on this.
"That change in her name was only a technical formality required for hte nikkah. She's still got a mandir for herself inside out house. She goes to her family poojas. What you have in herited at birth from your mother, how can that be taken away from you? On our farm too, come along and see, Salma's got her little temple. She sits there, there's a diya lit there all the time. Helen also goes to church on Sunday, she observes all the Ash Wednesdays, Maundy Thursdays. She observes Lent."
It's starange, sadly so. Salim got married in 1964, almost 40 years ago. There were small problems over religion then. But today, people still give a communal angle to Salman's relationship with Aishwarya Rai.
And Salim is only too aware of it.
"Let me tell you, the communal feelings that exist today are much stronger than they were during the Partition," he observes accurately."People lived together in harmony, we never thought of religious differences. We are born Muslims, Islam is our religion. But culturally, how are we different from the Hindus? We have more in common with the Hindus here than we have with the Muslims in Pakistan or with the Konkan Muslims or Muslims in the South. What do we have in common with them? We have more in common with the Hindus here than with those in Pakistan."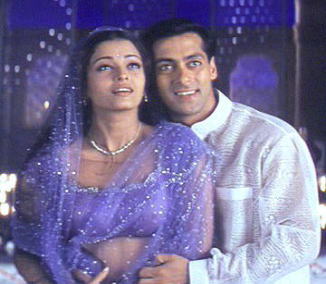 Why has the communal angle crept in the Salman-Ash relationship?
"People who talk about this don't even know that Salman's mother is Hindu." argues Salim. "During a riot, if anybody were to beat up Salman Khan, who would they be hitting? The son of Hindu mother or the son of a Muslim father?"
Salim reverts to the topic that obviously rankles-the image his son has got.
"People who write against the family or against Salman remind me of something I read in Rajnish's book. A man on the 10th floor would regularly meet a man who would spit on him and get off on the 8th floor. This happened every day until the intrigued liftman asked the man on the 10th floor, what's the problem sir, you don't say anything when this man spits on you every day? The man on the 10th floor said, what's it to me? I can go home and wash my face. But what is the man on the 8th floor going to do? He's got so much venom in him, hi's the one with the problem, not I !
So the people who're regularly writing what they don't believe in, are the ones with the venom. Can a journalist really believe it when he writes that Salman does black magic? That he fixes matches? That he beats up his girlfriend every day and twice on holidays? I saw that he has a relationship with Aishwarya today. Let them be. Allow it to grow or to fizzle out. Does anybody in the world have the powere over love? If there is love, it will survive. If there isn't, no powere can bring two people together. The only charge the press has not made is that the ISI had a hand in the love between Salman and Ash!"
Black magic may be far fetched. But it is believable that Salman has been drinking too much."Yes, I too have talked to Salman many times about his drinking," Salim admits."Drinking is somehting that you can have control over only after many years. It's the same with anybody who drinks, whether it is Dharmendra or Rajesh Khanna or Raj Kapoor or even Salim Khan. Salman is not an islated case. The kick you get out of drenking, the 'one more, one more' tendency of drinkers, is something that you understand only after many years of drinking. How much to drink, in which company you must drink. A poet had once written, Piyo to kam oiyo, Piyo to dheere dheere piyo, Piyo to khubsoorat company mein piyo.
I'm not one of those who 'll say that snything written about Salman's drinking is a wrong allegation. I admit, sometimes he has done it in the wrong company, he has overstepped limits. It took me time to understand the rules of drinking. Now I don't even answer the phone when I'm drinking."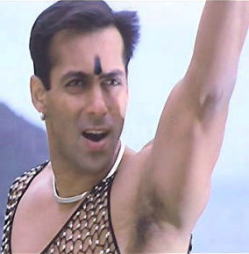 But Salman is not a child any more.
"Experience is a very big factor. Thjeree is the story of an 80-year-odl blind man. He was once asked how he became blind. And he said, 'When I was 20 years old, my employer left me to look after his bungalow, jewellery, cash and wealth and went off on a holiday. By the time he returned, I'd gambled, womanised and finished it all. Punishment for my crime was either to be put to death or to be blinded. My employer was kind so they didn't kill me, they only blinded me. All these years I was grateful to my employer. I thought he was right and I was wrong. But at 80, I realise he was the one who was wrong. Why did he leave so much temptation to a 20-year-old?'
You have no idea what kind of adulation the stars get. These boys have the best of temptations thrown at them. The best looking women, people falling all over them, women throwing themselves at them. It's very difficult to take it. This happens to sportsmen, it happens to film stars. Besides the temptation, they also start feeling insecure wondering how long all this will last, when it will slip out of thier hands, stars fear age. One day an actress asked me when I was going ot start working again. I said I will, in good time. And she said, oh yes, you don't have to fear the apperanace of wrinkle or a gray haier, we fear this all the tim. A writer matures, a heroine gets old. But Salman has definitely started realising that he has to keep his drinking in check."
That, according to Salim, still doesn't excuse the media (oh yes, we're back to it!) for playing up Salman's drunken banging on Ash's door.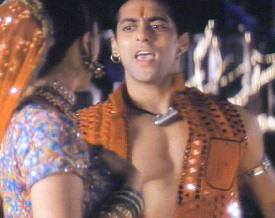 "It's no big deal if he went and banged on her door. This sort of thing happens in every love affair! Everybody should look into his own life before talking about Salman. Haven'T we all done this sort of thing? Breaking a glass out of anger, that feeling of possessiveness, trying to hold on to a woman?"
The answer to the Salman enigma is, according to his dad, "That Salman is a natural person, he is not cultivated. He wants to live life naturally, he doesn't want to pretend, he doesn't want to manipulate. Have you ever heard of Salman manipulating anythingin his life and career? Has he ever manipulated that this will be the heroine, this will be the director, juggle his dates, hold back a film's release? No, he completes every film, if it doesn't do well, okay."
"When he comes to the farm he raoms around in his shorts, he doesn't want any attention. He loves his anonymity, he doesn't want adulation all the time."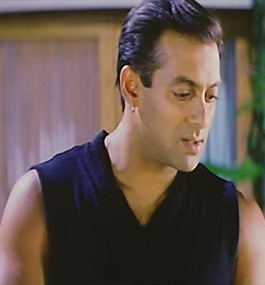 But as a celebrity, isn't it up to him to observe some decorum?
"You're right. But when a man has 1000 sterling qualities, you can't keep on only about his few flaws. You can't snatch away his bottle as punishment. You can only talk to him nicely and ask him not to drink too much. When he drinks, he doew feel ashamed about it. But you have to allow him to grow, realise his mistakes himself."
Remember the Somy Ali incident when he poured Thums Up over her head?
"Did that happen, I don't know, I wasn't there," Saim bigins, "But let me tell you that I also feel very upset in a relationship where I've trusted and been let down. For instance, if your woman tells you she's not smoking and you see her doing it on the sly, you feel cheated. Loyalty is not just in physical terms. It also means, if you don't do something in front of me, you don't do it behind my back too. If a woman does that it troubles you. But I probably won't pour Thums Up over her head, I won't waste the Thums Up, it's pretty good drink. I'd rather drink it than pouuur it over somebody's head and spoil it!"
A stronger charge today is the feeling that Slaman will soon he arrested.
"What has Salman done?" demands his dad. "How he murdered anybody? Has he extorted money from anybody? If a telaephonic conversation where you receive a threat (whether it is on you or your father) and you talk nicely to the other party, call him bhai, in a bid to defuse the situation, is a crime, then more than half the industry has committed it! If trying to get rid of a problem, shether it is over doing a particular film or working with somebody or giving dates or overseas rights is a crime, if that is called a nexus, then more than 90 per cent of the successful people in this industry have committed this crime. Koyikhushi se nahin karta hai, nobody likes to be pressurised into doing anything, I saythis ono behalf of ths film industry and not on behalf of Salman alone. WHoever has succumbed to this has only done it because kaun inke saath panga lega?"
"With all the police protection, you're not safe if you take panga with them. They will either terrorise or make a killing but they wil always give you the feeling that they're very near you.
Like actors need one hit per year to survive, the underworld also needs one het per year to keep the fear element alive! One hit-Rajiv Rai, one hit-Gulshan Kumar, one hit-Rakesh Roshan, they need one hit per year to survive!"
Has Salman too gone in for protection now?
"Salman has such a bad reputation now that it looks as if people need Z category security from Salman!" his father wisecracks.
There was no humour, however in the report that Salman had terrorised Ash's folks, that he and she have got married on the quiet.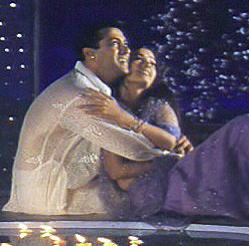 "That's absolutely baseless. Why should they hide a marriage?"he's incredulous."Has Arbaaz hidden his marriage? Has Sohail hidden his marriage? I ahve had not one but two marriages! You can hide an affair but not a marriage. When you get married you make a commitment, there is sanctity in it. Bar mein jaane ko hide nahin karoge, masjid mein jaane thodi hide karoge aap!"
But that's because Ash's parents are reportedly not in favour.
"Their attitude, their point of view, I won't blame them for it. I'm not being diplomatic. If I were to hear the kind of things one reads and hears about Salman, I too would be wary as a parent. Even if they weren't to believe all the thins said about him, just the fact that he has such a reputation must be difficult to take.
But once you come close to someone and his family youchange your view about them. probably Sohail's father-in-low had the same opinion earlier. But now when he meets us he says he couldn't have got a better family for his daughter!"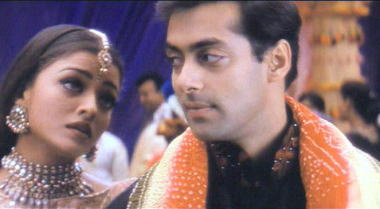 When I married Salma, her father didn't see my face for seven years. They didn't even meet Salma or come to see the children when they were born. The first time my father- in-low broke that ice was when he came to see Sohail but he didn't even look in my direction. Gradually, all the animosity disappeared. Much later, I did my bit for him and when he was on his deathbed, my father-in-low who was 92 years old told me, 'Putra, I've led a very simple life. Still, I must have made many mistakes in my life shich I don' regret. But the one thing I can never forgive myself, even Bhagwan mujhe maaf nahin karega, for those seven years when i didn't speak to you!'
So feelings are not in anybody's control. Whether it is Aishwarya Rai's parents or Salman Khan's parents, never try to control or restrict somebody else's feelings. If the feelings exist, no powere on earth can stop it. And if the feelings are not there, no power can get them together. It's all in their kundali, in their horoscope, their kismet. Wwhat has to happen in their lives will happen."
How does Salim like Ash as a daughter-in-low?
"I like whoever my son approves/chooses. The day Salman and Ash, it is not just his choice but her decision too, the day they tell me, daddy, we want to get married, I'll wear my suit and get ready. To this day, they haven't. But it's their choice, It's not like our Hindi films where the parent stands on the staircase and says, khabardaar, yeh saadi nahin ho sakti. Who could stop my marriage? Sohail woke me up at 5 in the morning and said, we want to ge married. And I said, don't give me these shocks at my age!
It's bewaqoofi, childishness to try and stop somebody's marriage. Whether it is Ash's parents, Salman's parents, or anybody else's parents, the contradiction lies in the fact that from the time a child is born, the parents want to teach him to stand on his own feet. he must start walking on his own.
Send him to school so that he can think for himself. Give him the best of college education, give donations to get him in, to make him grow as an individual. The whole process is to make them think independently for themselves. But the contradiction is that when a child starts thinking on his own, the parents say, we don't accept it, we don't like it!
You send your child to Harvard, Oxford, Cambridge. It starts from school in Scottish Orphanage which you may not even be able to afford. The whole process is to make your child independent minded so that she can take life's decisions on her own. But when she does make her life's most important decision, she says I want to marry this person, the parents turn around and say, you're a child, you're mad, you'r an idiot, you don't know anything!"
If there's humour and deep thought moving hand in hand in Salim's answers, it comes up again at the mention of Salman's reportedly large heart.
"He's got the second largest heart in the world." He thumps his chest(you know by now who has the largest!) "Now don't go and write what that magazine did!
But by God's grace, all of us have a large heart. There's always food cooked for20 to25 people. There's always whisky for everybody. When the income-tax people raided us, I told them one thing you wil find in this house wil be 110 bottles of whisky!
This family has lived together, ridden out together the worst of times and we're together in the best of times too. All of us beleive that God has given us the courage to play on all kinds of wickers. We have played together on a turning wicket, on a wet cricket, on a crackd wicket, on a slow wicker. Right or wrong, or even foolish, we as a family can live even without oxygen!
All this probably disturbs the world outside. We're happy when there's money, we're happy even when things are not working out. When my partnership (Salim-Javed) broke, I didn't have work for four years. Imagine, after seeing those heights of success where we as sreters were paid more than any star, to sit at home without work for four years. But we had the same spirit then too. I never went to anybody's house with a script in my hand."
Lately, Salim, whose responsibilities have grown with his children's problems, hasn't got down to any writing of his own '"My responsibilities have become a fulltime job"). But doew he doctor Sohail's work? Did he guide him during the flop Hello Brother?
"They were aware that it wasn't my kind of film at all. When they showed me the film they didn't even ask me my opinion because they knew it wasn't my kind of humour. Sohail has his own sense of humour, each one has his own brand of it. We let Sohail make the film the way he wanted to make it. Even Salman allowed it, he didn't interfere with it. Once Salman agrees to do a film, he might give a suggestion, you're not a dummy, but he doesn't interfere.
When he was shooting the climax of Hum Dil De Chuke Sanam, Salman telephoned me and said, 'Daddy, Sanjay plans to shoot it this way but I think it should be done another way.' I told him, you stop thinking and allow the director to make the film on his conviction. Put your point across but don't interfere. And that's what he did."
That's just what we did too-left Salim Khan's answers largely undisturbed. And Salim didn't let us down-his interview was a resounding Sholay, success in other words.
Thanks Salim, you haven't lost your winning touch!,

2001 May 23