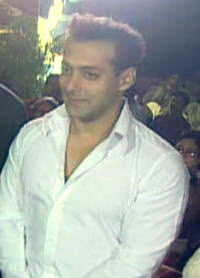 The actor jokingly explains, "I don't have too many films, so I cannot afford petrol for my car. Money problem! And even if I could afford it, I cannot drive because the police has taken away my license." It may be recalled that Salman was involved in a hit-and-run accident last year, when he allegedly killed one and injured four people.

Though Salman plays a serious cop in Garv, he gets to sing the tapori number, Khaya piya kuch nahin, glass thoda baraana. Salman says, "Don't serious guys do tapori numbers? I have seen managing directors of big firms attending mujrahs. Why can't serious cops do tapori numbers in real life?"
The actor claims he is happy with the film; it has turned out to be a good one. "This is not a preaching kind of film but still manages to give a message," he says. "My character Inspector Arjun Ranawat is great. People will fall in love with him and his ideology."
Just then, a Pakistani delegation marches into Mehboob Studios to meet Salman. After exchanging pleasantries, a Pakistani lady thrusts her cell phone to a bemused Salman's hand and pleads with him to talk to her daughter in Lahore.
After recovering from the initial embarrassment, the actor says, "How are you, beta? How are you doing? This is Salman uncle here. I hope you are concentrating on your studies. Be a good girl. Tata, bye!"