Chori Chori Chupke Chupke
Releasing March 9 2001
Storyline (India FM)
The movie is a thriller suspense with Salman Khan, Rani Mukherjee & Preity Zinta in lead roles. According to insiders, Preity plays the role of a commercial sex worker in the movie. She plays a bad girl who gets transformed by Salman's love for her. But Salman & Rani Mukherjee are husband and wife. Salman Khan later leaves Preity. When Preity learns of this, she decides to come back 'Chori Chori Chupke Chupke' and wipe out Rani from this world. The buzz is that there is even a surrogate pregnancy situation in the movie.
OFFICIAL website of CCCC
VIDEO
SONGS
ScreenSever1,2
WallPapers 1 2 3
Movie Stills
Movie REVIEW 1 2 3
It is the story of three main protagonists Raj, Priya & Madhoo. It is the love story of three people, which ends not in tragedy but in the totality of the relationships. It is a love story colored with the bloom of youth and melodious music that succeeds in arousing your curiosity and keeps you in suspense till the very last scene!

Chori Chori Chupke Chupke is that of a bar dancer named Madhoo (Preity Zinta). Her mind is full of money, money, money all the time. Salman Khan is married to Rani Mukherjee. They are left a will which states that unless the couple has a baby, they can't claim the property. But they find out that Rani can't conceive. That's when Salman Khan decides to ask Madhoo to be the surrogate mother. Of course, she agrees
Salman Khan plays Raj Malhotra, the scion of a rich industrialist family, who is adored by all his near and dear ones.
Rani Mukherjee plays Priya, the girl who comes from an extremely rich family. She is very sweet natured and adjusting. For Priya, her family comes first, and their happiness means everything to her.
Amrish Puri is Kailashnath Malhotra, Raj's grandfather. He adores his grandson while Raj simply worships the old man. Dilip Tahil is Ranjit Malhotra. He is Raj's father but behaves more like his friend. Totally involved in his business, for him work is worship.
Farida Jalal is Raj's most loving mother.
Prem Chopra is Dr. Balraj Chopra, the most trusted friend and advisor of the Malhotra family and is their family doctor.
Johny Lever is Pappu Bhai. Brought up like a son of the family, he has friends in high places and is great at making things work with just one phone call!
| | |
| --- | --- |
| | |
Cast: Salman Khan, Rani Mukherji, Preity Zinta, Farida Jalal, Amrish Puri, Johny Lever, Prem Chopra, and Dalip Tahil
Director: Abbas-Mustan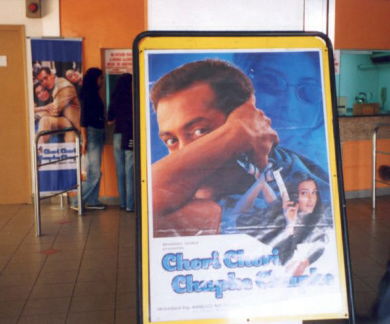 Bedok theatre, Singapore
I went to Singapore just to see CCCC.(I can never see new Hindi movies here in Japan). I just love watching Salman on big screen. I stayed 3days in Singapore and I saw 5 times. So crazy.......hahaha

My friend Shaheen who love SRK deeply also went to Singapore to see One Two Ka Four. She stayed 3 days and saw it 5 times. Visit Shaheen's SRK fansite.

We can't stop......
2000 April 8