CCCC movie review1 review2 review3
Producer: Nazim Rizvi
Director: Abbas Mustan
Starring: Salman Khan, Rani Mukherjee, Preity Zinta
Music: Anu Malik
Lyrics: Sameer
Released on: March 9, 2001
PLANET BOLLYWOOD
Reviewed by: Anish Khanna
Reviewer's Rating: 7.5 out of 10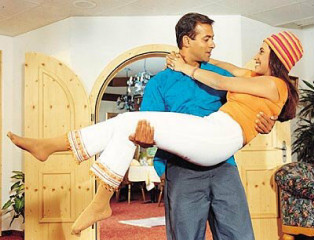 After months of debate, arrests, and hoopla, Bollywood has finally witnessed the release of director duo Abbas-MustanLs (and dare I say producer Nazim RizviLs) latest offering. Mafia controversies aside, "Chori Chori Chupke Chupke" is perhaps one of the more bold films that Bollywood has produced. Drawing from such sources as "Pretty Woman", "Doosri Dulhan", and "Bewafa Se Wafa", "CCCC" (what an acronym!) takes on the relatively liberal issue of surrogate childbearing, something taboo in "respectable" Indian society.
The film opens with the meeting, falling in love, and marriage of a tycoon family ka waaris - Raj Malhotra (Salman Khan) and Priya (Rani Mukherjee). After a honeymoon in Switzerland, Priya becomes pregnant, much to the delight of RajLs family - in particular his dadaji (Amrish Puri). Through a cricket accident, though, Priya not only looses the baby but develops a terrible infection in her uterus and ovaries requiring emergent surgical removal - which in layman terms means that she cannot bare children anymore. Raj and Priya keep this a secret from the family - and in their quest to produce a great grandson for dadaji that is RajLs own blood, they quietly decide to find a surrogate mother to "procreate" (for lack of better terminology) with Raj and produce the necessary child. This surrogate arrives in the form of a greedy Mumbai prostitute - Madhubala (Preity Zinta). Raj, Priya and Madhu run off to live in Switzerland and do the necessary deed away from prying family eyes. Trouble soon erupts, however, when Madhubala gets a glimpse of blissful, civilized family life and longs for a similar life for herself - that, too, with Raj as her husband.
Director Abbas-Mustan try their best to make Shyam GoelLs screenplay seem plausible and succeed only to a certain extent. To begin with, the audience witnesses how loving and understanding dadaji is. If that is the case, would he, too, not understand if Raj and Priya explained the situation to him and then decided to adopt? And ok - so they donLt tell him - but then they bring up the idea of artificial insemination. Raj turns it down saying that his family is too well-known in India and that people would find out. But when they are in Switzerland in the midst of modern technology and away from India, why canLt they do the artificial insemination there? (The answer, of course, is so that we can have a melodramatic sequence where Priya spends the night in a church to give Raj and Madhubala some drunken alone time to procreate). The most ridiculous of sequences (though it does manage to be touching in parts) is the ghod bharai scene. From what angle does Preity in a netted veil look like Rani? And is it customary to hide the womanLs face for the entire evening at a ghod bharai ceremony - including the family portrait? All of the above inconsistencies and idiosyncracies seem to be forgiven, however, through the license of Hindi cinema.
DonLt get me wrong. The film still works. And the biggest reason for the success of this film is the chemistry between the three talented lead stars - Salman, Rani, and Preity. There has been a great deal of tabloid publicity about the comradarie between these three, but here the audience witnesses this friendship first hand. Because these three actors connect well, their character interactions become that much more plausible. For example, the dramatic climax scene at the train station not only shows off the emotional range of the two heroines - but it comes off as a really great dramatic scene. Salman Khan impresses in a role where he keeps his clothes ON! (Yes, for the ENTIRE film...) Rani MukherjeeLs sati-savitri act is something different for her - and though it may seem somewhat one-dimensional, Rani turns a caricature into a real character. The meatiest of the roles in the film goes to Preity Zinta. Although Preity Zinta herself does not look like your average Mumbai prostitute, she jazzes up the character with gawdy clothes, outlandish make-up - and most of all - crude mannerisms and language and thus succeeds to a large degree in this role. More importantly, she performs the gradual transformation from greedy slut to maternal human being very, very well. Congratulations, Ms. Zinta - with "Kya Kehna" and this film, you have become an actress.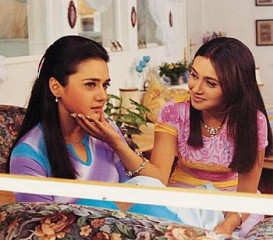 The supporting cast - from Amrish Puri to Dilip Tahil, Farida Jalal, Johnny Lever and Prem Chopra (in a positive role) all make positive contributions. Production values are first rate with great outfits for the lead trio and excellent cinematography (Thomas Xavier) in Switzerland that actually doesnLt make us roll our eyes (after all, the Hindi movie watching audience has probably seen all there is to see in the European country). The songs by Anu Malik are hummable and serve the film well - with the "Mehndi" song, the title song, and "Dil Tera Mera Dil" being the more memorable ones.
Overall - this is good entertainment. Sure, a lot of the film is not plausible, but how many Hindi films really are? In other words - "Chori Chori Chupke Chupke" is paisa vasool to a large degree. Watch it for the performances and chemistry of the lead trio - all of whom should benefit from the filmLs belated release.